Deltasoft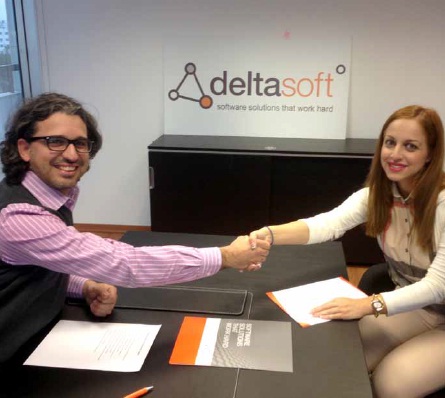 Name of Software: DeltaLink ALTUS – SAP based Human Capital Management solution as a service
Interviewer: Nastasia Michael
Interviewee: Mr. Andreas Papagapiou – Account Manager of Deltasoft
1. What areas in Human Resources Management does this HR software cover?
DeltaLink ALTUS provides complete and comprehensive coverage of all aspects of the employee lifecycle including:
– Personnel Administration
– Organizational Management
– Time Management
– HR Reporting
– HR Analytics
– Payroll
– Performance & Goals
– Recruiting
– Learning
– Succession
– Benefits management /Compensation
– Self Service
2. What are the main advantages of this HR Software?
HR continues to move towards a more strategic role, with HR professionals spending more time on developing the people of an organization and less on managing records, benefits and payroll. Delivering a global HR service to a global workforce has never been more critical. Web-based HR systems and employee self-services are supporting this trend.
DeltaLink ALTUS, an HR and Payroll management solution delivered as a service – and based on SAP software – addresses all of these needs and more. Some of the key benefits of DeltaLink ALTUS are set out below:
– Delivery of best of breed solutions as a turnkey, managed cloud offering on a subscription basis
– Custom designed services that harmonize processes, streamline operations, and improve HR service delivery
– Rapid deployment, low risk, and reduced total cost of ownership
– Deployment options ranging from hybrid to full CLOUD
– Full integration capabilities with existing HR applications as well as existing components in the SAP ERP application such as accounting, controlling, and cash management
3. What type/size of company is suited to use for this HR software?
The use of SAP Technology and SAP solutions as the basis for DeltaLink ALTUS means that there are no restrictions as to the size of the organization that can benefit from our solution. The delivery of the solution using the Software as a Service deployment method reinforces this notion, by making it economically viable and attractive to companies of any size, as well as functionally rich.
4. What kind of reports and/or statistical data can be drawn?
There are hundreds of pre-designed HR reports delivered as standard with our solution and they are delivered using easy to interpret graphical representations on dynamic dashboards via the self service functionality. Beyond that, the technical and functional potential for designing and developing any kind of custom report is simply boundless.
5. To what extent can this system be customized to the company's needs?
DeltaLink ALTUS is always delivered to customers following an initial setup process during which customization and parameterization brings it in line with each company's basic core requirements. Τhere is unlimited potential for further customization.
6. What kind of training is provided to the users of the system?
DeltaLink ALTUS delivery and deployment is accompanied with all necessary training workshops to key-users accompanied with a post go-live support until the normal operation is ensured.
7. Is technical support provided in case of problems or questions?
The DeltaSoft SILVER CLOUD SUPPORT package is included as standard and offers technical support for a fixed number of hours per annum via an online help portal and through a pre-defined and pre-agreed process and methodology of issue resolution. The GOLD CLOUD and PLATINUM CLOUD SUPPORT packages can secure additional support.
8. Does this software provide services for Companies with offices abroad as well as in Cyprus?
DeltaLink ALTUS supports HR and Payroll for countries and companies all over the world. As such, it can cover companies with presence which extends beyond Cyprus. Our current customer portfolio includes companies with offices in Greece.
9. What are the limitations of this software?
With DeltaLink ALTUS, our objective is to deliver a high quality, high value solution with complete and comprehensive coverage and capabilities. Our collaboration with SAP for this cloud based, SAP driven solution was a no brainer from the word go and enables us to respond to the challenges of Human Resource Management in any sector, with the simplicity, efficiency and flexibility that the Software as a Service delivery model is all about, without compromising on our commitment to provide our customers with best of breed HR solutions. The SAP ERP Human Capital Management module is immensely powerful, flexible and scalable, rests on decades of development and innovation, and is used by some of the largest organizations globally (Coca Cola, BMW, British American Tobacco, Kawasaki, eBay, McLaren).
10. What proactive security steps is the HRIS software taking?
There is a significant flexibility in the area of access and security. DeltaLink ALTUS utilizes the SAP authorization concept which dynamically determines what tasks each user can perform, meaning that users can perform only those tasks whose authorizations have been given to them via the roles assigned to them. Security features can be dynamically applied at the level of individual fields, field groupings, and personnel numbers or at a structural level allowing restrictions to be configured at an organizational structure level. This is decided and configured at the setup stage based on the requirements of each organization. Moreover, the delivery and deployment of DeltaLink ALTUS using the Software as a Service model and our collaboration with SAP in creating this offering means that customers can benefit from robustness and security over and above that which we typically observe at data centre's due to the requirement for a specific SAP Hosting certification. This certification is comprehensive and requires adherence to strict standards which include, but are not limited to:
– Data Centre physical security, infrastructure redundancy and failover testing, perimeter protection, access control, regular audits
– Network and Connectivity
– Managed Backup and Disaster Recovery