Cycom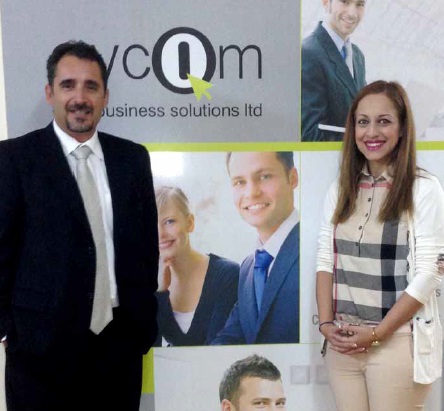 Name of Software: Cycom Human Resources System
Interviewer: Nastasia Michael
Interviewee: Mr. Akis Avraam – Managing Director of Cycom
1. What areas in Human Resources Management does this HR software cover?
The Cycom Human Resources System is a system that has been designed to address all the human resources processes of a modern HR department. Recognizing and adapting to the needs of the HR Professionals and at the same time providing information to each employee in the form of "Self Service". The Return of Investment (ROI) by an HR department is immediate! At the same time it will be a tool to monitor more closely the investments made on an employee, the requests that have been satisfied, it can hold all the details of each employee and their individual skills. The company can track in detail all leave related issues, automation of the leave, approval process, limitation of the 'what is my leave balance?' hassle to zero and many more productivity gains. Cycom HR System comes with standard reports and has an open-model policy so that customers can take advantage of their own reporting tools and processes. The system will cover all HR needs, it can be setup according to the client's needs and customizations can easily be made since it is developed by Cycom, in-house. The areas that are covered include:
– Leave Management
– Electronic Documentation
– Employee Benefits
– Employee History
– Equipment Liability
– Disciplinary Measures
– Awards
– Medical Claims
– Dependants
– Skills
– Business Trips
– Appraisals
– Employee Locations
– Time Management
– National Holidays
2. What are the main advantages of this HR Software?
– A main advantage of the Cycom HR System is that it is separated into two parts. The HR Officer used by the HR Department and the Self Service used by the company Employees. The Self Service is fully web-enabled giving easy access to the employee to all important HR related information, thus freeing the HR Department from this hassle. Another advantage is that the Cycom HR system is developed by us so the client has access to the programmers and therefore it can easily be modified to the client's needs.
– The system is run on Oracle Database. This means that we don't have any security issues.
– There are many standard reports, but the user can create their own too.
– The Self-service part of the system is easy to use and uses workflows through automatic emails saving time and consumables.
3. What type/size of company is suited to use for this HR software?
Any size of company can use the Cycom HR System. We currently have clients ranging from 20 Employees to over 400.
4. What kind of reports and/or statistical data can be drawn?
If the information is there, we can create reports or charts. There are over 100 standard reports in the system but by adding our Business Intelligence Module then any reports can be extracted at will, save it and it is ready for next time. This is very easy using 'drag and drop technology'.
5. To what extent can this system be customised to the company's needs?
Yes, it can be customized because it is our own system. We do not buy it from a third party and are simply dealers. It is developed inhouse by us, so we always welcome new ideas and adapt the system accordingly.
6. What kind of training is provided to the users of the system?
We have a large team of highly experienced Implementers/trainers that will train the HR staff and the Employees on how both the HR Officer and the HR Self-Service systems work. Extensive Manuals are also provided to the users and we also have a Help-Desk service where client call us with any queries that they may have.
7. Is technical support provided in case of problems or questions?
Yes – Support is provided in the form of the Help-desk as the first point of contact. Usually any problems or queries are solved by the Helpdesk through the telephone support. The Help-desk operator can also log on to the clients pc and give live instant support through Team Viewer. If a visit is required, then an appointment will be made so that one of our trainers or technicians depending on the issue will visit the client to solve any software issue.
8. Does this software provide services for Companies with offices abroad as well as in Cyprus?
Yes – since the system is fully web enabled it doesn't matter where you are in the world as long as you have internet access and have permission to long onto the company or cloud server then you log on and work. We also provide support abroad through Team Viewer.
9. What are the limitations of this software?
There are no real limitations of our HR Software. Since it is fully expandable we are always open to suggestions for improvements.
10. What proactive security steps is the HRIS software taking?
Since we are talking about HR, security is very important to us. Obviously any user logging on to the system must have a user name and password which only the administrator can change after the first time. But there are also many other security features built in to the system. The Oracle Database for example and the Application server will have secure firewalls in place. In the program itself, each form has a security level allowing only access to authorized employees. And once inside a form each user will have various rights whether they can change/insert/delete data.